Why it's OK to believe in Bucs, Bills, but not Bears, Browns
Yardbarker NFL writers Michael Tunison and Chris Mueller address some of the hottest issues in the league. This week's topic: Which teams are contenders and which are pretenders at the quarter mark of the season.

Mueller: Taking stock of an NFL season at convenient, round-number milestone markers might seem cliché, but there's a reason teams are often evaluated in four-game chunks — each chunk provides an insightful window into the always-changing complexion of a given season.
Here are the relevant historical numbers since the advent of the 16-game schedule:
4-0 through four games: You're in great shape; 82.5 percent of teams make the playoffs, and only three this decade, the 2016 Broncos and Vikings and the 2012 Cardinals, have missed. Seventeen 4-0 squads have won Super Bowls.
If you're 3-1, things are still looking great. Sixty-two percent of those teams have made the postseason, and 16 have won the Super Bowl — most recently the 2017 Eagles.
2-2? Not great. Only 38.7 percent of teams make the playoffs after starting .500, and only seven have won it all.
1-3 teams are in big trouble, historically speaking. Just 11.9 percent of those teams make the playoffs, though the Colts and Texans both did it last season. Only one team, the 2001 Patriots, won it all.
Start 0-4 and a playoff appearance is a statistical anomaly. Only one team, the 1992 San Diego Chargers, made the playoffs after a winless first quarter of the season.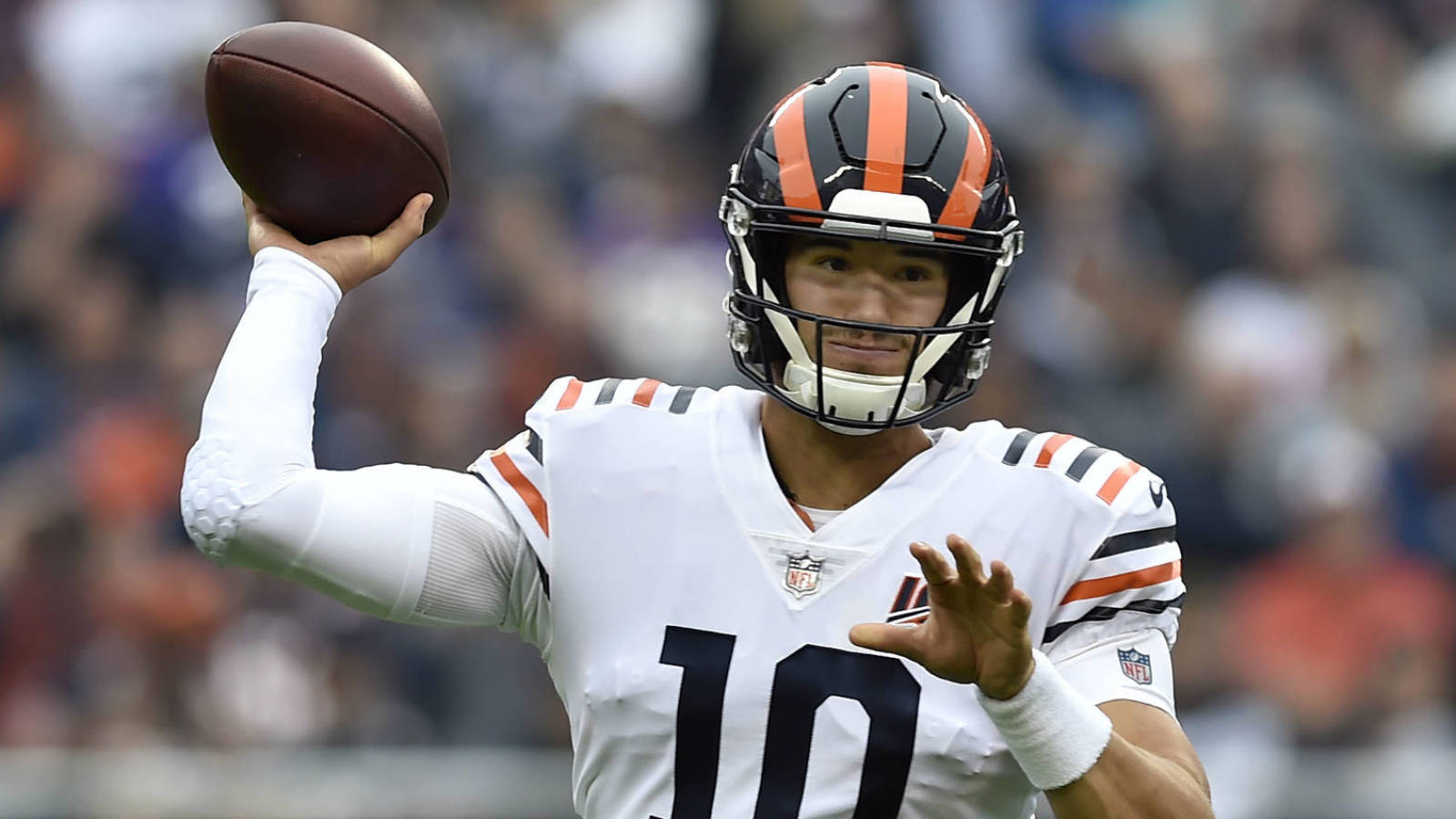 Bears QB Mitch Trubisky
Quinn Harris-USA TODAY Sports
The Chiefs and Pats are both clearly for real, but you know who isn't? The Bears. I am not a Mitchell Trubisky believer, and nothing I've seen in Chicago's first four games has made me reconsider my position. His shoulder injury, no matter how many weeks it costs him, probably won't have an appreciable impact on Chicago's offensive performance.
The Bears' defense is still great, but Chicago has the league's fifth-worst scoring offense and hasn't topped 300 yards in any game this season. The Bears still must deal with the Chargers, Eagles, Rams, Cowboys, Packers and Chiefs before the season is out. They might win one or two of those games on the strength of defense alone, but they need some offense to have a chance. I doubt they get it, even if Trubisky comes back.
Want a potential surprise contender? How about the 2-2 Tampa Bay Bucs. They're a missed field goal from 3-1, and if Jameis Winston can get his act together and keep the turnovers down, they have intriguing receiving talent, and Todd Bowles has improved the defense. The Bucs are 20th in yards allowed, but 30th in points, in part because of multiple pick-sixes by Winston. What's more, the Bucs have one of the classic hallmarks of a good team: They stop the run. No one has been better at defending it this season. Tampa Bay has allowed a paltry 237 yards through four games and only 2.9 yards per carry. Ronald Jones has emerged at running back in his second season, so it all comes down to Winston. If he can rein in the turnovers, the Bucs could win a vulnerable NFC South.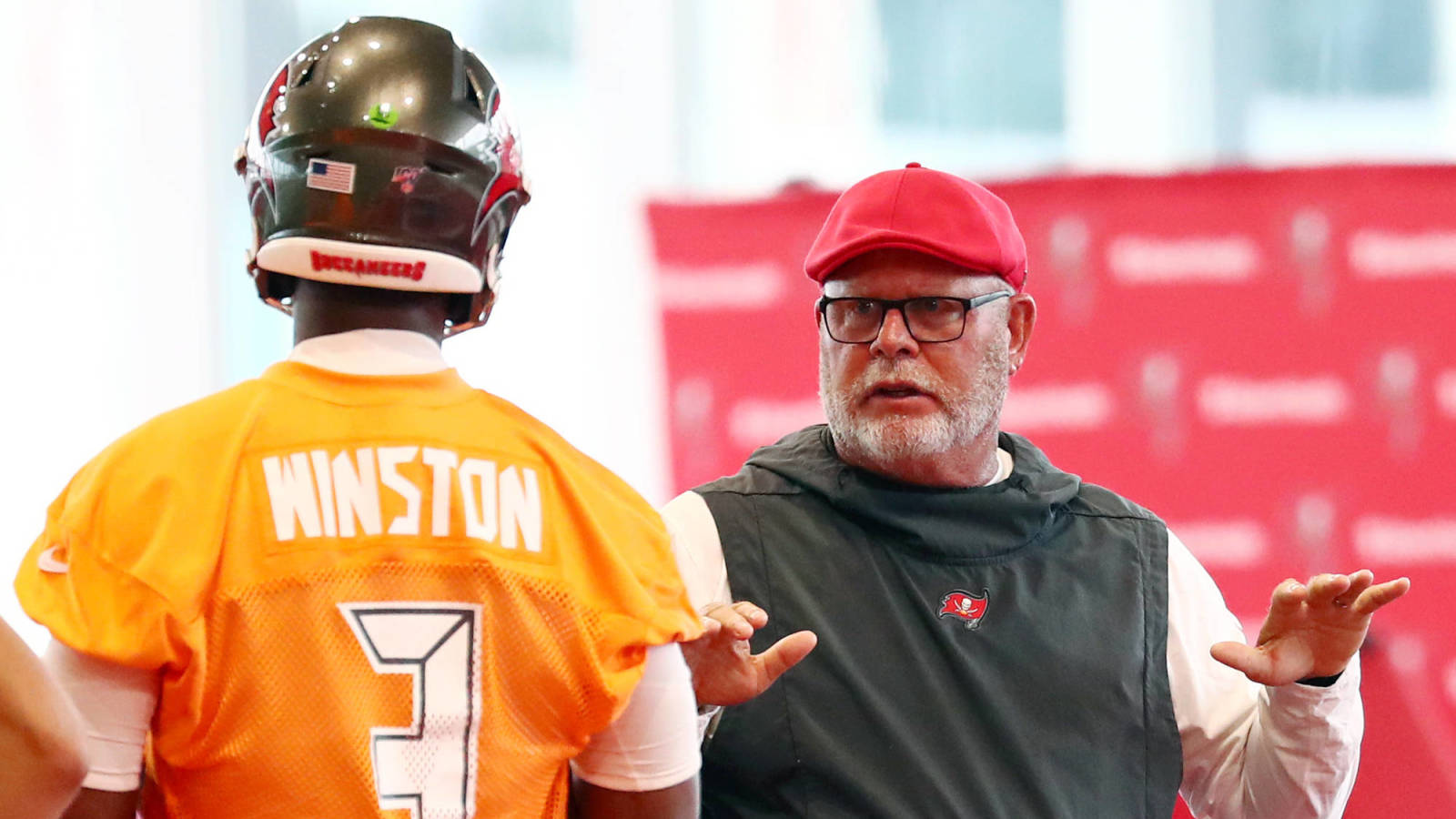 Jameis Winston and Bucs coach Bruce Arians.
Kim Klement-USA TODAY Sports
Tunison: It does seem like a quarterback injury is the only thing that could derail a Chiefs-Patriots rematch in the AFC Championship Game. I do give Buffalo credit for making the Pats sweat for it a little in Week 4, even though that seemed a situation where the Bills gave it their absolute best shot at home and still came up short. Nevertheless, it does show that the Bills just might be playoff bound for the second time in three years. Staggering thoughts.
I think you're right about Tampa. Bruce Arians is likely one of the few who could have rescued Jameis' career. If 2019 was a washout, he'd likely only get another shot as a stopgap starter for a struggling franchise and then play out the string as a backup. I don't know if he's totally kicked the turnover bug, as his interception rate is still roughly the same — 3.6 % — as last season. But at least there's plenty of positive production to go along with the minuses.
The problem is the Bucs are in the same division as the Saints, who have impressed me by staying afloat through Drew Brees' absence. Wins over Dallas and on the road in Seattle with Teddy Bridgewater under center have them shaping up to be the clear favorite in the NFC, at least until I get a clearer idea of how good the 49ers are.
The quarter pole is the trickiest point of the season to make grand pronouncements because it's still early enough for teams to not have jelled all the way, yet there's just enough evidence to trick you into thinking you have a firm idea of the layout. Take the AFC South. The entire division is 2-2, and I could accept any of them as the eventual champ. I wrote this week that the Jaguars look alluring because Minshew finally looks like the QB they've been searching for for years, and with the Chiefs and the road game against the Texans as their losses, their toughest games are behind them.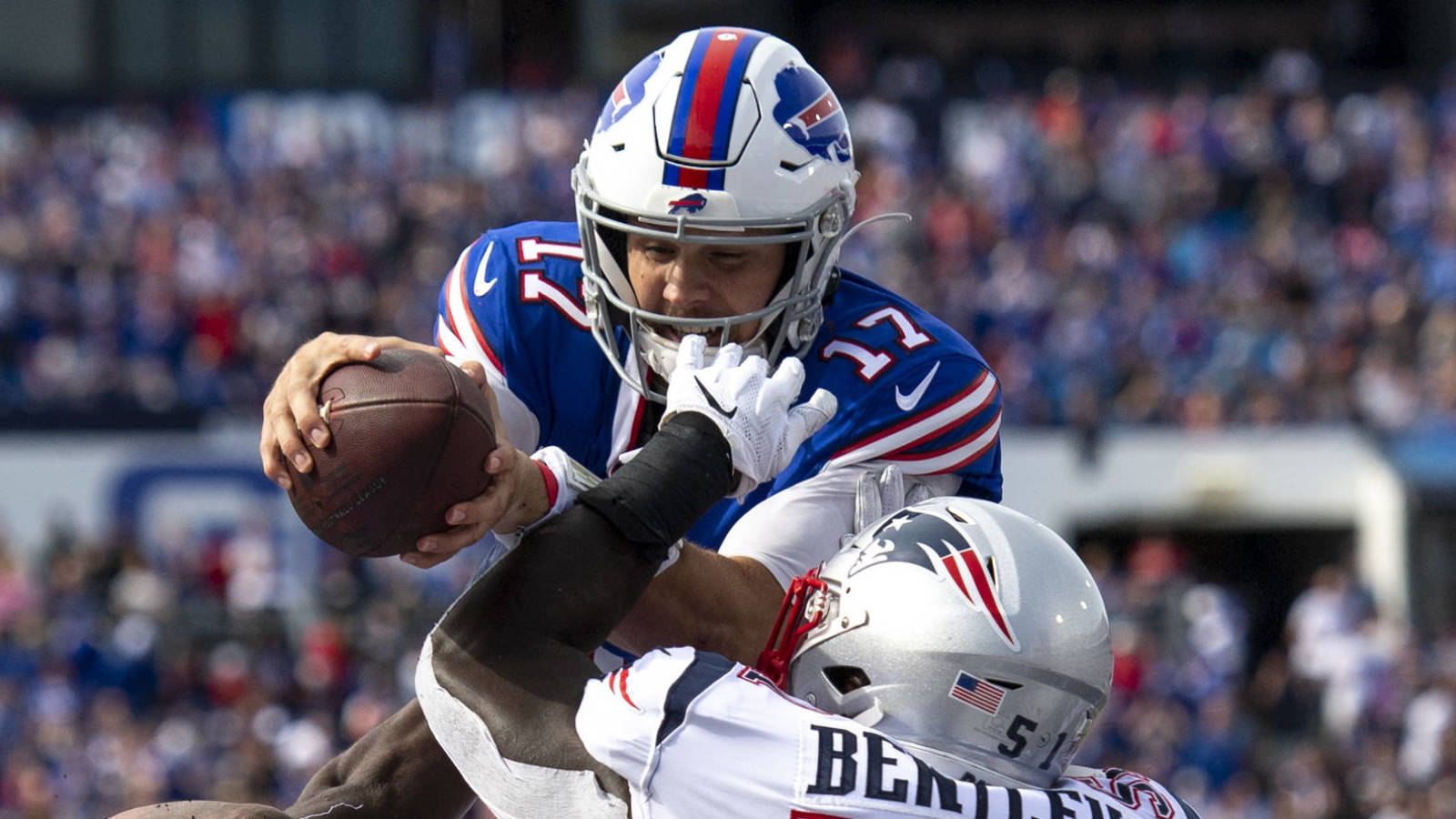 Bills QB Josh Allen
Douglas DeFelice-USA TODAY Sports
Mueller: One of the biggest factors to consider when deciding which teams are real and which ones are destined to fade is the schedule. In fact, it might be the biggest factor of all. Cleveland is 2-2 and coming off one of the more impressive wins any team has had this season.
But any temptation to look at the Browns and proclaim them the clear AFC North front-runner should vanish when you look at their next four weeks. They get the 49ers on the road, Seahawks at home and then a bye week before traveling to New England. That's a meat-grinder, and they'll be lucky to escape from it at 4-3; 3-4 or worse is very much on the table.
Another team close to an unbeaten start that I just can't buy into yet is Detroit. It seems like that bandwagon is getting crowded, and if the Lions stop Patrick Mahomes on fourth and 8, they're 3-0-1. I just get the sense that the roof is about to cave in. The defense has gotten strafed in all four games, and while they've forced eight turnovers, good for sixth in the league, that isn't something a team can count on.
Detroit is 29th in yards allowed, and while the offense has been efficient, the Lions still have their entire division slate to go. Green Bay still looks better, and it would be very Lions-esque to trip up against, say, the Redskins or the Raiders to derail a promising season.
I believe in the Bills, by the way. That might be the toughest anyone outside of Kansas City or Dallas plays New England all season. If Josh Allen doesn't miss too much time in the concussion protocol, the schedule, and a weak AFC in general, sets up favorably for the Bills. Tennessee on the road will be tough, but they should handle Miami and Washington at home, and so long as Josh Allen plays against Philadelphia, it's not inconceivable that they hit the halfway point of the season at 6-2. With games against the Dolphins, Jets and Broncos remaining, nine wins seems doable, if not flat-out likely.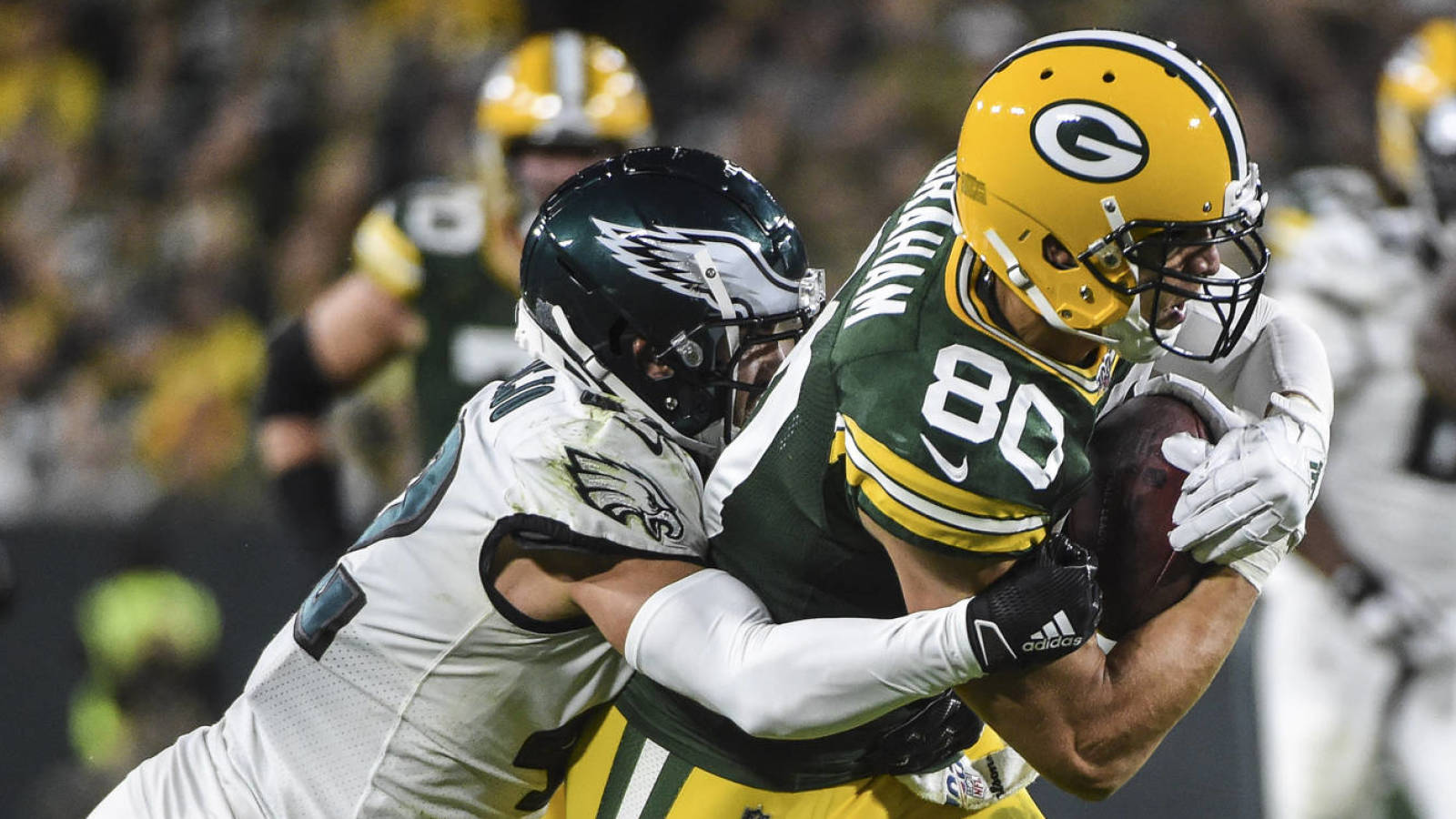 Packers tight end Jimmy Graham
Benny Sieu-USA TODAY Sports
Tunison: Speaking of remaining schedule, the 49ers' is no cakewalk. Two of their three existing wins came over teams that were winless. They also got the dreaded too-early Week 4 bye. Beyond just being in a fairly tough NFC West, with both games remaining against the Rams and Seahawks, San Francisco has matchups left against Cleveland this week, Baltimore on the road, Green Bay and New Orleans on the road, after Brees presumably returns.
While the Packers are presently struggling to find a complementary target beyond Davante Adams, I think sooner or later they'll find a way to make the offense formidable. Even though he has two touchdowns in four games, it's remarkable how little of a factor Jimmy Graham is otherwise. I guess it's been long enough to have confidence that he'll never again be a factor like he was in New Orleans, but right now he's on pace for only about 400 receiving yards.
While the Eagles have been a little scattershot through the first quarter of the season, a trial by fire awaits before December. Following what should be a winnable game on Sunday at home against the Jets, they face three straight on the road, against the Vikings, Cowboys, and Bills. No cupcakes there. They then have three games in a row at home, albeit against Chicago, New England and Seattle. That's a brutal six-game stretch. If they survive it and are above .500 through 11 games, I could see them emboldened to make a run. If not, Philly residents will surely give us more quality content about their letdown.
Chris Mueller is the co-host of The PM Team with Poni & Mueller on Pittsburgh's 93.7 The Fan, Monday–Friday from 2-6 p.m. ET. Owner of a dog with a Napoleon complex, consumer of beer, cooker of chili, closet Cleveland Browns fan. On Twitter at @ChrisMuellerPGH – please laugh.
Published at Thu, 03 Oct 2019 20:56:00 +0000
Source: Why it's OK to believe in Bucs, Bills, but not Bears, Browns.