Bryce Harper sits out Saturday night and could also miss Sunday's game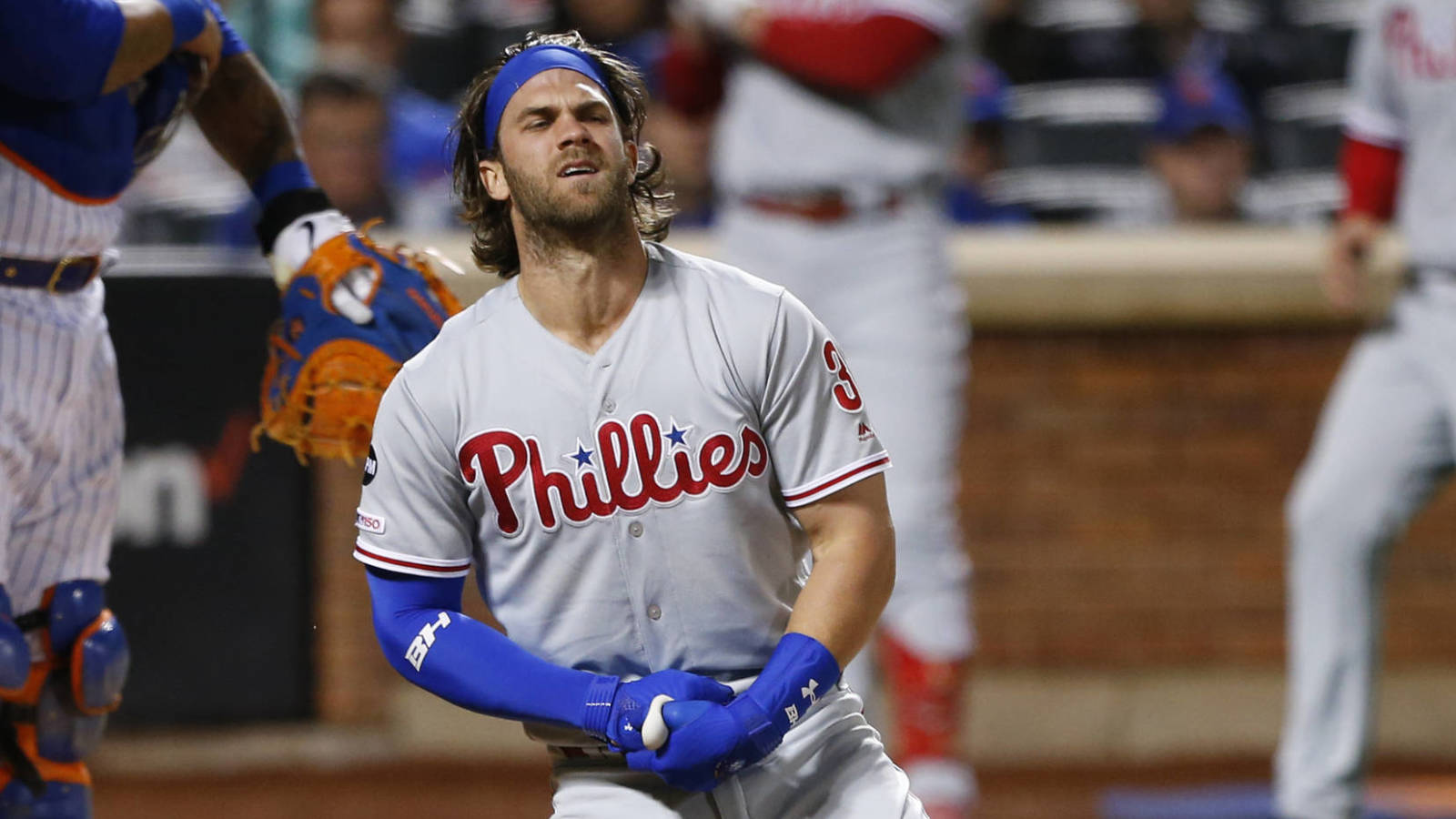 After being hit in the right hand with a Steven Matz pitch on Friday, Bryce Harper sat out the Phillies' 5-0 win over the Mets on Saturday and could also miss Sunday's game. X-rays on the injury were negative, and Harper told the Philadelphia Inquirer's Matt Breen and other reporters that he would "be fine," although he was frustrated about having to miss any time at all during the pennant race. "Really tough to take a day [off], but I need to do what I need to do," Harper said. The Phils' victory moved them three games behind the Cubs for the last NL wild-card berth, and in the midst of such a tight race, Philadelphia certainly can't afford to miss one of its top players.
While Harper hasn't posted the type of superstar-level numbers you might expect after signing his much-ballyhooed 13-year, $330 million contract last offseason, he has been a thoroughly productive player in his first Phillies season, hitting .254/.372/.497 with 30 homers over an even 600 plate appearances while also contributing strong defense.
More on some key players who might or might not be close to returning to action…
George Springer also didn't factor into Saturday's play, although Astros manager A.J. Hinch told reporters (including the Houston Chronicle's Chandler Rome) that the outfielder was available off the bench in Houston's 2-1 win over Seattle, and would hopefully be back in the lineup on Sunday. Springer suffered a minor concussion after an ugly-looking collision with the outfield wall on Tuesday that resulted in the Astros star being carted off the field. Fortunately, the injury was less serious than it appeared, and Springer is set to resume what has been another All-Star season.
Kurt Suzuki will see a doctor after suffering a potential right elbow injury in Saturday night's game, Jesse Dougherty of the Washington Post tweets. The Nationals catcher felt pain after making a throw to second base in the seventh inning and was replaced by a pinch-hitter in the top of the eighth. Suzuki has hit .260/.319/.473 with 16 homers over 301 plate appearances in his first season as a National, splitting time with (and providing much more offense than) Yan Gomes. Rookie backstop Raudy Read is the only other catcher on Washington's 40-man roster if Suzuki has to miss any time.
Athletics outfielder Stephen Piscotty told Ron Kroichick of the San Francisco Chronicle that he is close to beginning pool therapy on his injured right ankle, and will then further test the injury before determining any next steps. Piscotty believes he can return before the end of the season, which is perhaps not as positive a development as it seems since there hadn't really been any thought that Piscotty's high ankle sprain could cost him the remainder of the 2019 campaign. After hitting the IL on Aug. 25, the outfielder is still wearing a walking boot.
Published at Sun, 08 Sep 2019 04:07:07 +0000
Source: Bryce Harper sits out Saturday night and could also miss Sunday's game.